During your chimney inspection, your technician may have brought your attention to damaged fireplace or furnace flue clay liners. A chimney's flue(s) may be venting a fireplace, wood stove, pellet stove or other solid fuel appliance, including your furnace or heating system. It may have undergone a chimney fire or connected to an improperly vented appliance, misused wood stove, or exposed to excessive moisture.
Moisture is the byproduct of high-efficiency furnaces, as their name indicates, they extract more heat from a given amount of fuel than conventional furnaces. Less heat is lost up the chimney, however, since less heat is sent up the chimney, the temperature in the flue is often below 120 degrees. It is only when flue gases drop below this temperature that condensation begins; it literally rains in your chimney! Countless drops of acidic moisture soak the flue. This acidic moisture wreaks havoc on terracotta flues and masonry. Also, if you have an oil burning system, the created gases mix with the moisture and create sulfuric acid. This slowly destroys the clay liner, especially if your chimney does not have a cap preventing rain and snow from entering your flue liner.
Some characteristics of a damaged flue liner can be:
Cracked or missing flue tiles.
Eroded brick and mortar.
Joints between flue tiles not sealed.
Flue tiles not aligned properly.
Excessive moisture in gas or oil flues.
Excessive soot in oil furnaces.
Carbon monoxide leaking into home.
Other reasons a liner is required can be:
Unlined chimney.
Upgrading your heating system and the chimney liner does not meet current codes.
When installing a woodstove/pellet stove or other solid fuel burning appliance.
Gas appliance where chimney is on the outside of the house. (FPA54 requirements)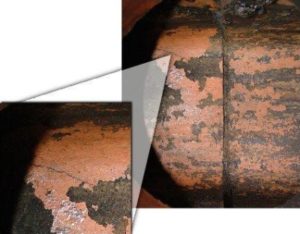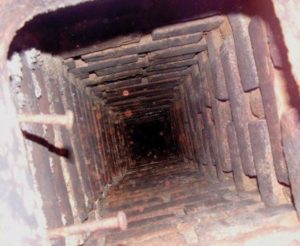 Below are some Liner options to install within a compromised chimney in order to continue safely burning.